I think I finally have Photobucket sorted - it's been a mission - so here goes with some photos. One of the tanks has a lot of silica staining so apologies for lack of clarity.
I've seen mention (and pictures) of pingu guppies on here and elsewhere. I'm getting a smattering of those shown in he first two photos below. Are they likely to be pingu? From reading, I think pingu is actually a pink base body colour and those in the first two photos seem to be grey body colour (as in the first two photos), but their back halves look just like the pingu photos. The coloured back half is pale pink, nearly white, with a fine bright pink, nearly red line running through the lateral line (I think). The tails are yellow and short. One of them has a longer dorsal fin, the rest have all been short. I currently have two adult males of these, and a selection of babies that look like they are similar but with much less of the pink colour on the back half - some just a splash on the caudal peduncle. If there is a pingu gene happening here, what is the standard to say if a fish is 'good' or 'bad'?
I'm not line breeding terribly seriously, but on the whole am selecting for gold and looking at what I get colour wise that I like. The following two photos are of a single male that is obviously a cross between the ?pingu colour shown above, and gold. He has the same pale pink colour on the back half of his body, but the front half looks more like a gold guppy, and the top line from head back to dorsal fin is almost red - but in a see through way if that makes sense. His fins are quite yellow. His colour changes quite a lot according to light and the camera flash is too white to bring out the pinkiness of his colour. This fish is unique so far, and he's with a variety of females in my "A" tank in the hope of getting the right combination for more.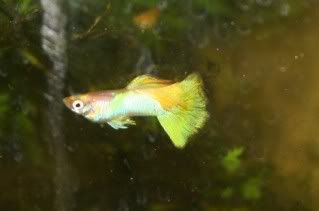 Is this a pingu gene at work do you think? Or just a gold guppy with pretty colours?